Sparkbase is Wealth Creation
Swiss Fintech Innovation
Sparkbase is a Swiss Fintech organization that develops advanced software technology with integrated investment functions and features streamlining assets in a time saving manner, simplifying skillful navigation of the markets and increasing average profitability while leveraging valuable data intelligence. Sparkbase focuses on both retail and corporate clients with its head office in the world-class city of Zurich and its nearby partnership network in the crypto valley of Zug, Switzerland.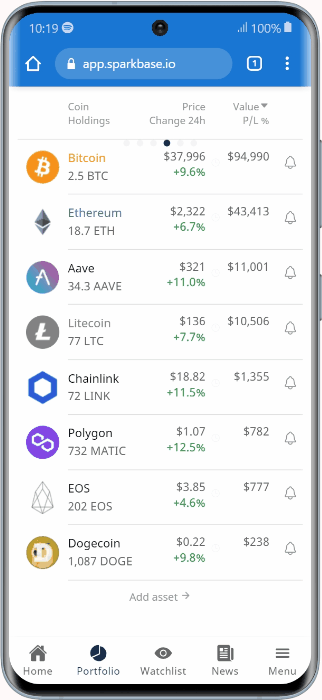 Outperform the Markets
Create your portfolio, find lucrative
assets and optimize your strategy
Realize profits and grow your total portfolio balance, monitor movements in total profit/loss since you started investing or by price action of the last 24 hours or 7 days. Watch the trend of all your investments on your portfolio performance graph. From choosing the right assets at the right time to rebalancing your asset by percentage and ditching assets in freefall with stop losses you outperform various market benchmarks.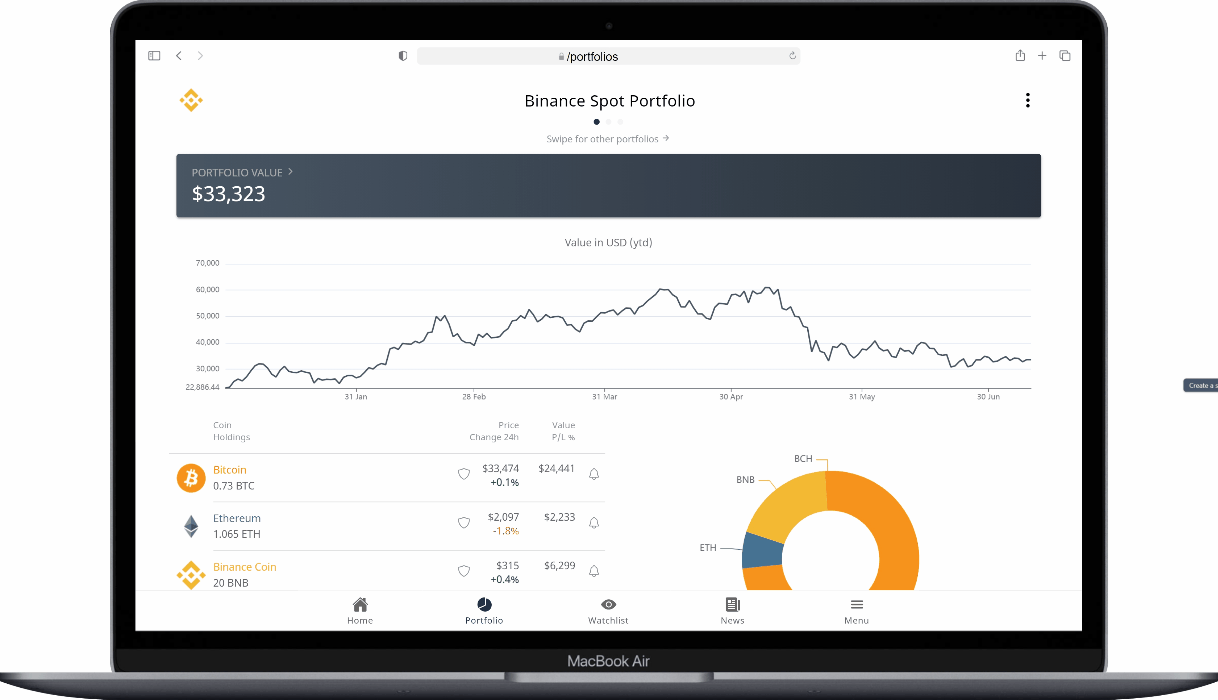 Master & Secure Your Assets
From your dashboard with all connected
wallets and trusted exchanges
Sparkbase offers a detailed assessment of and recommendations for your asset diversification, source, location, most used exchanges, trades and investment status. Market, technical & social indicators combined equal data-driven investments.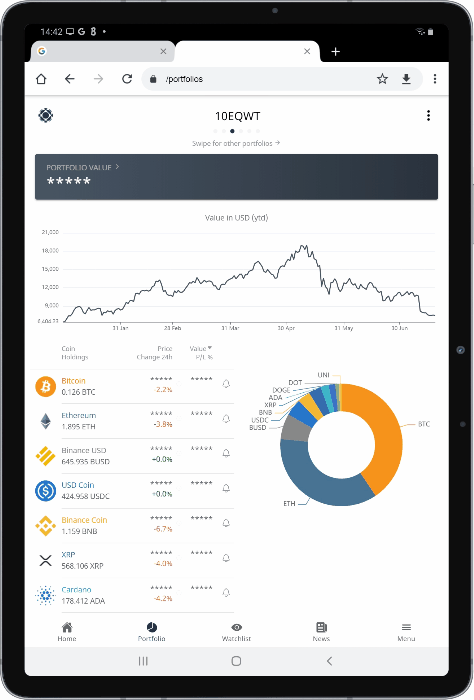 Invest, Allocate & Diversify
From stocks, ETFs, indices, forex, cryptocurrencies,
to mutual funds, bonds, futures & options
Get detailed trading analysis on your trade history and assets. Sparkbase cryptocurrencies and traditional markets tracking gives you a detailed overview over your asset split, asset sources, asset location, most used exchanges, trades and investment status. Determine your networth with one app for all your investments.
Proactive Security
How Sparkbase enables active trading
To ensure the safety of our signed up and connected users we offer multi-factor authentification, smart locks and privacy mode through our trusted Swiss data centers. It is completely up to you to connect your various wallets and preferred exchanges to your app via API keys (read-only for a dashboard summary or full authorization for executing buy and sell orders). We offer simulated portfolio tracking with virtual transactions for free if all you want is a quick balance overview on the go.
Compare Editions & Top Features
Your Digital Pocket Knife. Take the strategic approach that fits your individual style best. Finetune as you go along. Your goals and means may vary from the average portfolio tracking user. Sparkbase offers a flexible made-to-measure framework for you as a beginner, advanced or professional investor with a wide range of possibilities.



Sign Up for Free

Essential

Your first steps in an exciting field.

Advanced

Your deep dive and serious venture.

Premium

Unleash the full power of wealth creation.
MOST POPULAR
Asset Portfolio Management
Mobile App for Mobile Devices
Web App for Desktop Usage
Live Portfolio Tracking
Realtime Portfolio Notifications
Sandbox Portfolios
Live Trading via API
Order Management
Stop-Loss Management
Smart Profit Takers
Auto-Rebalancing
Performance Snapshots
Asset & Market Indicators
Algo-Trading Bots
Rule-based Signals
Smart Order Routing
360° Security Framework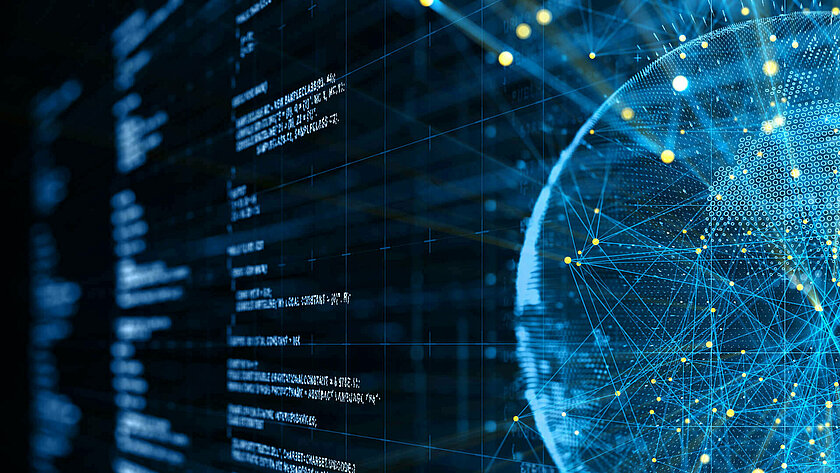 Toward Financial Independence
Sparkbase is Wealth Creation
Long-term successful wealth creation toward financial independence consists of making precise and timely decisions in fast-paced and volatile markets as well as the resolve to see a potentially lucrative trade through to the end or the sense to cut losses short depending on what the situation calls for. The key to your effective portfolio management is aligning your investments with personal objectives plus taking calculated risks, keeping track of asset developments and staying up to date on determining factors while continuously optimizing and moving forward with improved strategies. You need the right asset allocation, intelligent rebalancing and the use of algorithm based assistance all of which helps you manage an adequately diversified portfolio.
The Call for Simplification
There are over 100'400 fast-moving asset pairs in the cryptocurrency markets alone with 9'300 actively tradable
assets on over 480 trading platforms. It's dangerous to go alone! Take this. 📱
Your Digital Pocket Knife
Multi-Tool Master
Sparkbase is the savviest multi-tool master for all your various wallets and positions on established exchanges. The available toolkit focuses on what really matters offering you the right equipment for every market situation. On mobile and desktop you have a handy pocket knife for your sharp cutting-edge investing and trading decisions.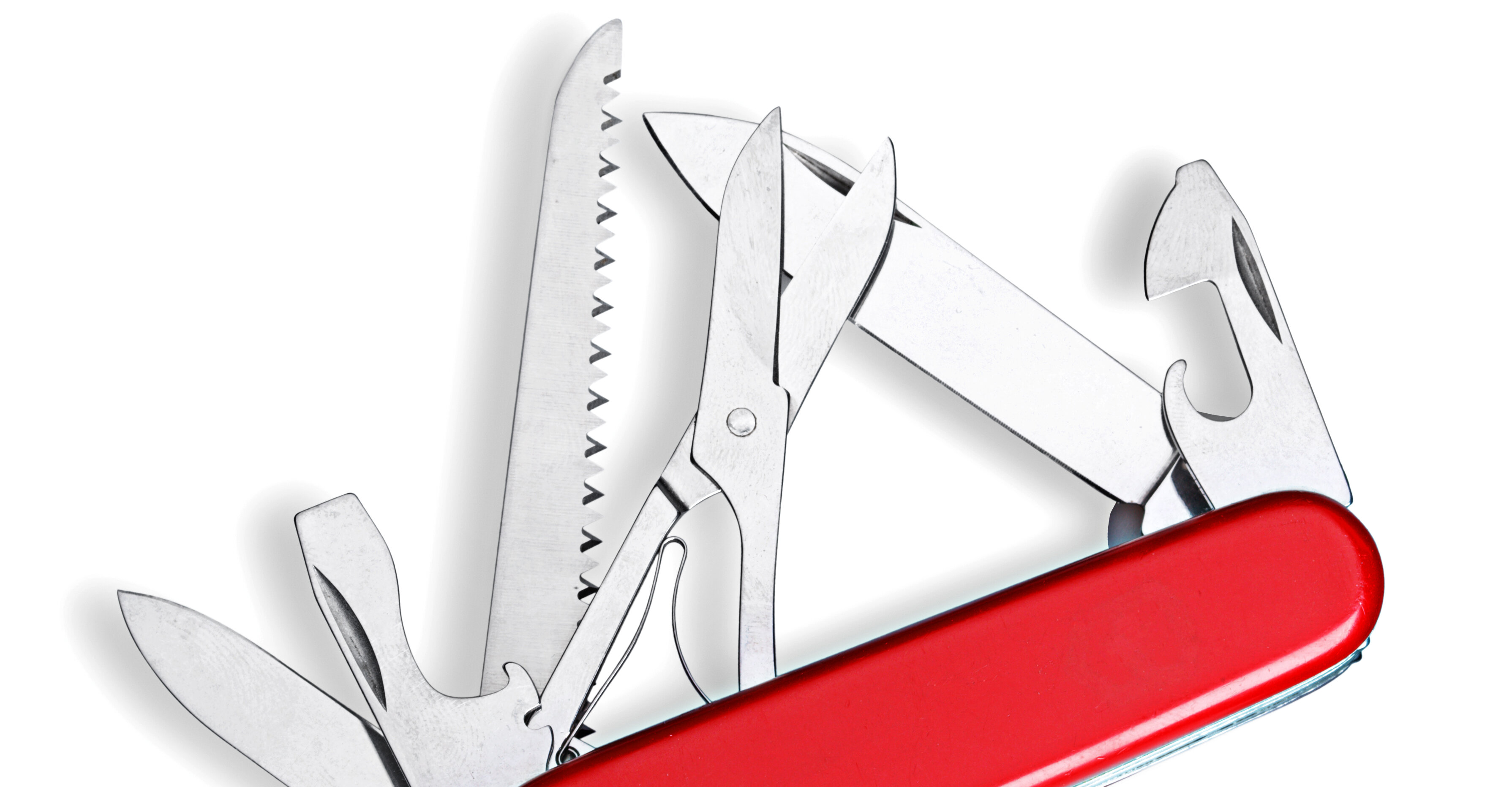 We believe everybody should have access to investing opportunities in both modern and traditional markets as well as the right tools at their disposal for sound decision making toward a better financial future.